Esta llorando mi corazon
Since he is so keen to transform himself, sadly farewell the Soul Power David but remember I will always always always wish you the very best no matter what *big sigh*
Anyway let's move on, thanx to nlayhua its seemed that David will come to Singapore for promo organised by
Yes933
@ Singapore Expo on Apr 28. Nothing yet on the website tho, & 28 is Thurs, why not Fri? Maybe he can only come on that day but whatever, its good that he can come.
Lynn is organising t-shirts & if u interested plse email her tangerine_slices@hotmail.com okay, she needs at least another 4 ppl. Lynn, my shirt is a gift for David so just made it large, maybe he can grow into it heehee. If u guys r going in a group with yr identical t-shirts, it will be so nice & maybe can pass the shirt to him.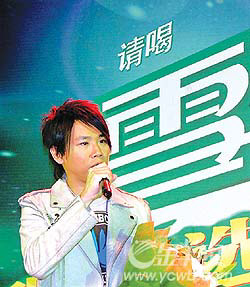 Sprite is having
awards night
in China on Apr 17 so could be why David couldn't come for NKF charity show as he would have to attend as the possibility of him receiving an award is extremely high dun u think? Oso read that cos of late release of The Great Leap, it may not be eligible for GMA this yr. But really these award shows r so meaningless now that I know that the chinese music industry is only worth 900 million. How do the lesser known singers survive? I have heard that if u can afford it, u can hire chinese celebrities to have dinner with u & there is like a pricelist. I always thought its just ugly rumors but maybe not. Anyway guess with everything in life there is a seamier side that u nvr get to see.
More pixs of David's mini concert in Shanghai
here
where a fan handed him lipbalm so u see not only me who remembered the Soul Power David *another big sigh*