Plse dun think I am blaming David, its not his fault of cos, just that my expectations r always vry high. I didn't say commercialism is bad, but it is not good either. Its just extreme capitalism & anything to the max is nvr ideal cos now most of our dreams are fueled by commercialism. You want that dream house, the dream car, the cool leather jacket, the must have Manolo Blahnicks. Are you any happier, smarter, better, wiser, kinder if you have all these things? Maybe so, but if you are, its probably cos of commericalism.
I nvr wanted David not to be 'commericalised' cos in a way it helps to bring his music to more ppl. But I can have a opinion on it can't I? He even wrote a vry angry post abt it voicing his opinions & his views. Well, here's mine. What is so wrong abt wanting someone in the entertainment world who truly & honestly believe in the power of music? It doesn't always have to be 'commercialised', it doesn't always have to be abt image, it doesn't always have to be abt music videos. But yes, going the commercial way will definitely make you more money, more famous and more fans so you can buy even more cars. But will it make your music any better, more insightful, more powerful, more inspirational, more meaningful? I don't think so. Anyway what's the point? As I said maybe its just me, maybe I just outgrown David & maybe my next idol will be Lou Dayou heehee.
David in Shanghai:
And here gorgeous fanart by the one & only Lynn: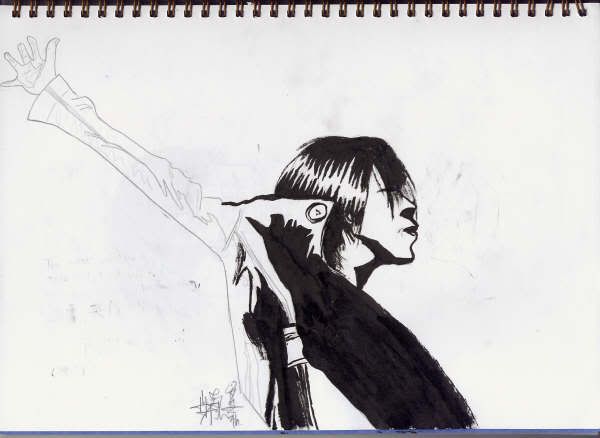 Oso looked like David will not be attending any of the NKF Charity shows.