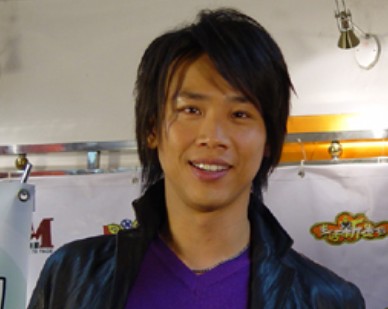 According to this wonderful
page
, Zhe means 'good at debating' so happy to finally find out the meaning of his unusual name. So special, even his given name is special. Prolly his gran who gave him the name wanted him to be a lawyer & think he will be vry good at it. Like when asked abt the perceived competition between Jay, Lee Hom & himself his reply was maybe in the market they could be competitors, but outside it they should be friends, but if their fans & media kept trying to use them like a game of chess sacrificing one or all of them, then in the end when there is no more 'ear happiness'who is the real loser?
So I urge all u responsible fans out there to stop comparing plse & creating stupid polls. The silliest poll actually is at Tom website where they asked who will marry first, Jay or David *roll eyes* This is precisely the reason why David wrote Sula & Lampa, and is preparing his exit from the entertainment scene *sigh*.
Here
can see pixs of him in Nanchang. Notice he has been going to really interesting places like Hua Lian, Nanchang & later Kuching in Sarawak. For Malaysian fans, heaps of download in
Hotlinkclub
including ringtones & wallpaper. Even if u r not Malaysian, can listen hehehehehehehehe, think Susan Said sounds the best. Oso the b/w pic msgs r soooooooooooo adorable, lucky Hotlink members.
Anyway such an ambassador of music our DT is becoming. Even though he is not coming to Singapore this time, its ok as I rather ppl in places he has not been before get to see him too. Anyway much too hot here now, its better if he come later when a bit cooler. Did more translating just for fun, so here it is, plse excuse as not exactly word for word but general meaning of the song, so lovely but sad.
Who do you love
In the darkness we are both silent
You only want to go home
I don't want you to go
Loneliness deep as the ocean is so unbearable
Your gentle hand softly touching my hair
Your expression say you long for my embrace
But you seemed to be running for your life
Longing to disappear
Do you love me or him?
Is it true he is better than me?
Who are you struggling for?
Do you love me or him?
Please say out the true words from your heart
Do you want to follow me, or him?
Love ~ love ~ love ~ him
Is this life punishment for me?
Love or hate you, I have no idea
Carrying this burden
I only want to let go
Grabbing your hand
I am being pulled down
Your expression say you don't want my embrace
Everytime love comes to a finale
You look for escape
Do you love me or him?
How can I make things better
So you will not struggle
Do you love me or him?
I rather listen to a cruel answer than be ditched
Do you love me or him?
For you I find a hundred reasons
I am just that silly
Do you love me or him?
Should I take silence to be your answer
I realised now
Do you love me or him?
You don't even know who is the best
So why should I worry
Do you love me or him?
I will take silence to be your answer
So let's stop fighting
Go and love him
Music by David Tao, lyrics by WaWA & David Tao, sang by David Tao in The Great Leap 2005