Think can start a collection of him sticking out his tongue heehee. Sum nice closeups:
Vry nice despite the baby pink tee *evil grin* Posing with his dad, dad's friends & giant brush he gave his dad to encourage him to write more books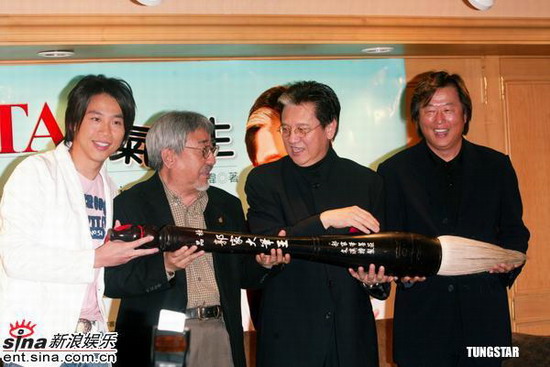 Sunway promo
& writeup in New Sunday Times with details of his promo in Malaysia, so fans there, have a really great time & take lotas pixs ok.
Tao of The Great Leap
SHARON WONG
MAR 11:
Malaysian fans can catch a glimpse of Taiwanese superstar
David Tao who will be in town next week to promote his latest
album titled The Great Leap 2005. SHARON WONG writes.
WHO in their right mind would give up cash that is already well, almost in their pockets with a snap of their fingers? And we are not talking about just RM100 or even RM1,000. The figure involved runs into millions approximately RM7.2 million but that's exactly what Taiwanese R&B maestro David Tao did. Apparently, he was supposed to begin a concert tour in China last year.
Since his successful concerts in Taiwan, Hong Kong and Malaysia, promoters and organisers in China have been clamouring for some of the action and ultimately six shows were finalised and he was supposed to kick off with the first performance in Shanghai on Sept 4.
However, after much consideration, the man finally decided to stop all presses. The reason? To concentrate on his new album.
With his recording company, EMI Music, fully behind him, Tao's fourth album titled The Great Leap 2005 was eventually released worldwide on Jan 21 this year. Never mind that there were other big names also releasing albums around the same time. Nothing could stop the tidal wave that was Tao's pre-release orders promotions.
Although orders were only being taken at the selected record stores in Malaysia at 1pm, a long queue was already formed from as early as 10am outside Tower Records, Kuala Lumpur.
Among those waiting patiently were several non-Chinese music lovers as well as some British tourists, who were introduced to Tao's music by their Malaysian friends! The tourists said that although they did not understand the songs, the music was powerful and attractive enough for them to want to get their own copy.
The pre-release orders for the first day alone broke the 8,000 unit mark! Now, Malaysian fans can rejoice for Tao will be in town next week to personally promote the album. Jointly organised by EMI Music and Galaxy Productions and presented by Hotlink, Tao will be arriving in Malaysia on March 15 for numerous promotional activities in several States.
His itinerary begins with live radio interviews with 988 at 8pm on March 15, MYFM at 6pm on March 16 and Kuching's Cats Radio at 4pm on March 17. Tao will also be holding an autograph session in Terminal 1, Seremban at 8pm on March 16. Fans can also catch him in action at the MBKS Indoor Stadium, Kuching at 8pm on March 17, Upper Penang Road, Penang (Next to City Bayview and E&O Hotels) at 8pm on March 18 and Sunway Surf Beach, Selangor at 8pm on March 19. For more information, call Galaxie Productions at 03-2282-2020.