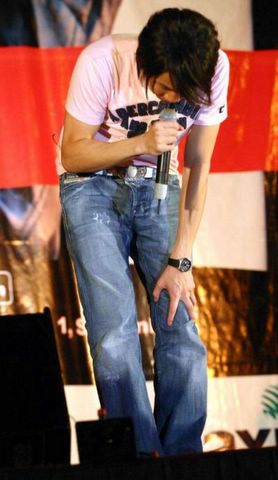 David taking a bow after his vry successful tour in Malaysia. Around 9000 fans turned up at the Sunway showcase making David so vry happy he even made up sum lyrics abt the tour to thank his malaysian fans. In each of the 3 showcases, he sang Who do you love? & Susan Said adding Spring Wind in Penang cos the ppl there spoke 'hokkien' so he sang a 'hokkien' song, in Sunway he added I love you.
Actually u guys in Malaysia r the best, so sweet, adorable & helpful with one another, & such great DT fans making us in S'pore vry shameful that we can't even get his songs to stay on the chart even the radio dj remarked that DT fans r not vry keen on voting or maybe not as many fans here. Anyway its time for S'pore fans to be more active if u wanna David to come here.
Must admit I am not the kinda fan to vote or turn up his showcase or autograph session. I love his songs & buy all his original cd/vcd/dvds, all the mags he appeared in, watch all his programs & become a Sprite drinker. But then I am not keen to meet anyone famous either & I absolutely hate crowds or having to queue. Oso not sure what I gonna do when I meet him, say "Could you please stop wearing pink A&F tees?", he will think I am crazy & call the security guards heehee. But he has the honor of being the only person I have ever written a blog for.
He does looked really superb, must be twice as gorgeous in the flesh, lucky fans in Malaysia. Anyway lotsa them has posted encounters, news, photos @
DT forum
. Remember dun haf to go thru the flash website to access the forum cos flash take forever if dun haf fast connection. Cos if u want David to read yr post, DT forum still the best place & think he read the english posts first cos the chinese ones r so small & complicated. Even if he set his font to the largest, it will still be fuzzy & a pain to read. So if he only spend an hr everyday to read the posts, there's a vry good chance that he will read yr english posts first.
Found this interesting version of Katrina @ this
site
, scroll down to dl in zip format. So this is the end of my DT Malay Journal, hope u guys enjoy it & the pixs, oso big thank you to those who posted their comments here & blog forum.