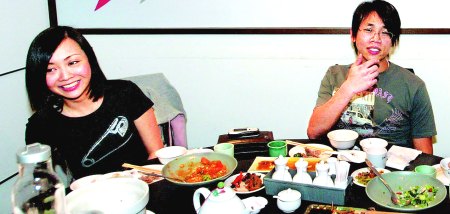 It seemed that David in Taiwan recording his new album
(still recording, exactly when next yr r u going to release yr album David?)
& he was caught on camera wif rumored gf Joanna again. Well kinda she drove him to his recording studio or sumthing like dat. Must be a slow news day heheheheheheheheheheh. Anyway they make a vry nice couple I think. Oso dun think his fans r going to flee just cos he may be getting hitched.
Apparently he turned down another endorsement as he wanna concentrate on recording. Must be hard to be his manager, oops another few thousand dollars outta window. Maybe he dun haf manager, just manages himself, hope so cos dun wanna anyone hating on him cos of lost profits haha. Just think if he accepted all the endorsements offered to him, he could haf bought Ferrari by now. Anyway David, we r grateful u dun think only of cash but yr music always come first. Its great u can sacrifice yr dream car to make better music 4 us fans, but could u just be a little bit faster?
David oso been vry busy helping his dad wif anime series 'Yappy Dog'. David snr is planning on releasing an english version in Taiwan to help kids wif learning english. Wonder if Studio Classroom is involved? Actually Tao Dawei haf long been involved with kids programs & education in Taiwan. Its good to know both the Davids r doing sumthing to improve education in Taiwan.
A more sober note is that my fav animal, the tiger, may be extinct soon. Wonder if we humans can get anything right in the animal world?