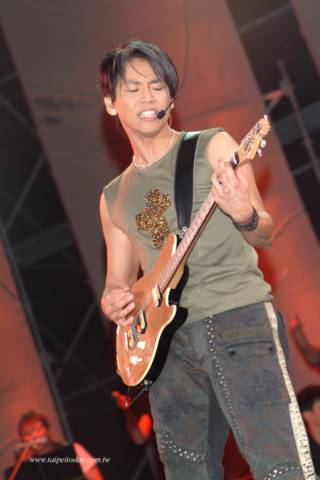 David flew from Changsha to Beijing on 11/21, not sure 4 what but davidcn members greeted him @ the airport & took pixs wif him. He oso took group pix @ changsha. He looked really happy & relaxed. He did say his new album will be out early next yr & he will oso be preparing his china concerts. He oso said he will be having more events in Beijing altho David's idea of more usually less than what his fans hope. As nlayhua haf posted on shoutbox, David arranged a song 4 Lou Dayou on his new album BeautIsland.
I like it a lot not just cos its David's arrangement but it haf that big romantic sound u seldom get in chinese pop & yet it oso sound taiwanese like Wu Bai. In other news, 12 Girl Band was said to recording wif David, but not sure whose album - theirs or David. Not sure how true but it all sound good. I am content dat David is staying true to his own sincerity & marching to his own tune. I rather he cooperate with Lou Dayou & 12 girl band than SHE or Jasmine Leong. Oso I like there's no media circus abt the cooperation, all vry low key, let the music speak for itself. I like this David vry much, like he has at last found himself.
Another sweet little clip found @ davidcn from Rain mv heehee.
Okie, haf upload My Anata mv, Sprite & Mother's Day jewelry cms as well Lou Dayou mp3 (credit davidcn) into yahoo briefcase. Those who want them email ultra_snd@yahoo.com 4 password. Alternatively register @ forum so can give u permission to access media section 4 the password. Sry just haf to take sum precaution to prevent files from being deleted.