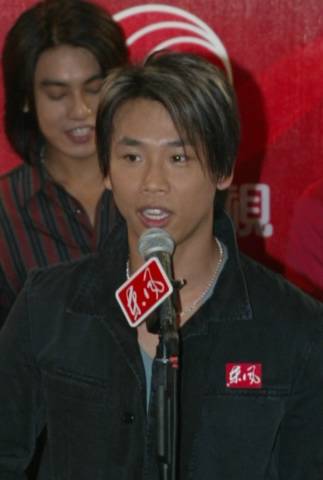 Sum criticisms of David included dat all he does r remakes of old songs. OK, he did 3 remakes in 3 albums out of 34 songs (not including singles & songs he wrote 4 others) which is roughly 9% of his works. 9%? & yet ppl accused him of remaking old songs all the time, so you see ppl liked to criticise without any kinda research. Oso the 3 covers he did r excellent egs of how to remake songs. The first Spring Wind just blew ppl away when his self titled album came out. The second Tuberose which I felt is even better than Spring Wind. The song is truly acappella without any instruments & David did all the vocals. Truly a masterpiece which not many ppl realised. His most popular remake is prolly Moon over my heart, a pop ditty done to death by lotsa singers in concerts. Easy to sing the original song but try to sing his version, a lot harder than u think but it sounds sweet & soothing to the ears.
The sign of an artist is when he take inspiration from someone's work & does his own interpretation like a great actor doing Hamlet or King Lear. This is what David does when he cover Spring Wind, Tuberose & Moon over my heart. Can't think of another chinese musician doing this as successfully as David, & for his success he is criticised as 'always redoing old songs' *sigh*
This post inspired by another post I read on davidcn where the poster said that enjoyment of Season of Loneliness spoiled by accusations of David 'copying' the melody from a Japanese anime called 12 Kingdom. My dear, do you think David haf all the time in the world to watch Japanese anime? Okie, let me tell u abt John Lennon & his inspirations. It was when he listened to Yoko, his wife, playing Beethoven's Moonlight Sonata, he told Yoko to play the chords in reverse order & so inspired he wrote one of his most lovely songs, Because.
This is what artist do, they get inspired by all sorta things. OK maybe David heard the 12 Kingdom theme & saddened by his loneliness, he wrote Season of Loneliness, a hauntingly beautiful song. He may oso haf heard the original tune which inspired the 12 Kingdom theme. All it matters is that lotsa ppl r touched by Season of Loneliness & many cried when they heard it. Basically u just haf to believe in David & his inspirations. If u feel u cannot enjoy his songs cos u think he 'copied' it, well I feel sorry for u.
Again I read accusations dat he 'copied' I love you from Aaron Hall's I miss you. David wrote I love you in 1993 & his original english version was more Beatlesque than r&b. Aaron Hall's album, The Truth, which contained I miss you, came out towards the end of 1993. Not only dat, the two songs sound completely different except maybe the refrain.
Anyway now dat David will be releasing his new album soon, sure there will be more accusations & criticisms. I wanna say dun let it affect yr enjoyment of his music, but I guess u haf to make up yr own mind whether or not you are a true David Tao believer.
Finally found the orange shirt dvd thx to mercuria. Erm not sure if its legit but its really, really, really wonderful as it contained china live performances during release of Black Tangerine & I'm OK. But instead of his original live recording they used his album recording & included sum really tacky love scenes. Only 3 songs haf live recording & they r all great. First I love you & he sounds really fresh, then Airport in 10.30 & I really like this live version cos he did more falsetto & vry spontaneous. The last is my fav, Highx3 performed live by David on guitar! It was so good but way too short unfortunately. Oso the packaging vry nice & I would recommend get it if u ever see it cos even tho they spoiled it by not using the live version, u still get 3 excellent live performance & footage of David performing live in China. Oso even if not legit, they r all old songs not his new ones & if u r his fan, u would haf all his original albums rite?