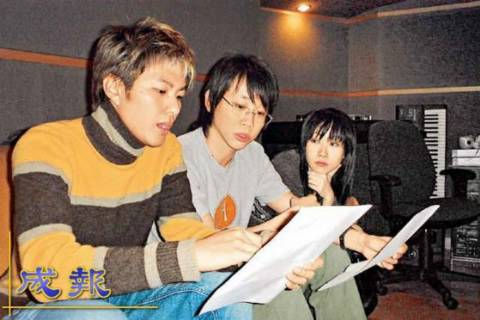 ...to u guys for still believing in David, his inspiration & creativity in music. Always remember his 3rd msg where he said, "Encouragement, friendship and love during this time are very crucial and, again, I thank you all for your constant outpour of love and support." I hope all our constant msgs & thoughts can bring the necessary strength, support & love to David when he needs them most. I dun know, maybe cos I am still a bit down & weak, haf the feeling David is wanting our support the most at this crucial time. Above pix (credit davidcn.com) when he was producing the duet called Special thanks for Edwin Sui & Jade Kwan.
Dl & listen
Its a bit bland like most HK songs & David did his best to liven it up with r&b. Both Edwin & Jade r upcoming new HK singers & they did quite well in the song which won an award for best duet last yr. Oso this song is rather special as its the only one I know not composed but produced by David.
Actually David was labelled 'Babyface of Asia' a few times cos like Kenneth 'Babyface' Edmonds, David is a respected producer as well as singer/songwriter. His successful collaboration included Sarah Chen, LA Boyz, A-mei, Jordan Chan & of cos Tension. He haf worked with both Taiwan & HK stars such as Eason Chan, Karen Mok, Tony Leung, Alex To & Leo Ku. He wrote & produced the Solar 2000 song working wif 4 of the biggest names in chinese entertainment - Nic Tse, Eason Chan, Lee Hom & Daniel Wu. Last yr he & Lee Hom wrote & produced song for SARS, Hand in Hand, working wif who's who list of Taiwanese stars.
Everybody who worked wif him praised his professionalism & expertise. But working with David do not guarantee hits just well written, well arranged, well produced songs. Cos unlike Babyface, David do not just produce radio friendly r&b songs to climb up the charts. As always, David strives for excellence & quality when working wif others. Really like the way he kinda tailored each song for each singer to suit their voice & personality.
Sum of my favs r Wind & Sand for Tony Leung, Katrina for Eason Chan, Kingston Man for LA Boyz, Wonder Why for A-Mei, I understand him for Karen Mok, Smart & My Story for Tension, Midnight Blue for Eric Suen, Thinking of your love for Ronald Cheng & I already know for Jasmine Leong. He has been asked a few times to do an album of songs he wrote 4 others & hopefully he will get to do it cos I really like to hear him sing them.