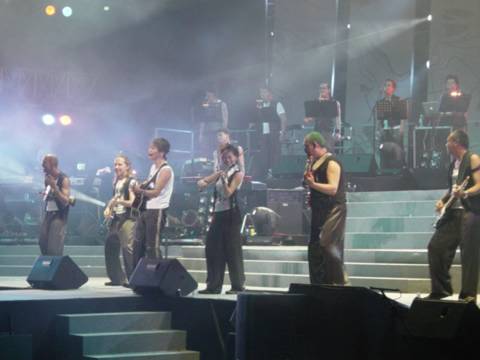 B4 davidorg went down, there was a lovely thread talking abt the band behind David & Soul Power. Here can see all of them including the five backup singers. One of the things I like abt Soul Power concert was David's interaction wif the band & they were vry much part of the concert not just there to support him. I like the end of Runaway where he yelled out, "Take it away" then left the stage leaving the band to show off their immense music skills. It was like an impromptu jamming session so high & heralded the arrival of Tension. Then of course wif Kung Pao Chicken & My Anata, the 5 backup singers came upfront to sing & play along wif David. U need vry talented musicians to be so visible on stage & David certainly knew how to chose them. Here a brief rundown on the members of Soul Power Concert band:
Musical director/keyboardist - Goh Kheng Long
Altho can't find heaps on him, Kheng Long is well known in Singapore as the award winning musician who arranged Rainy Day for Stefanie Sun. Kheng Long is behind a lot of successful singers from A-Mei to Jasmine Leong. He is extremely well respected musician in Asia & his keyboard skills haf left many ladies enchanted but sry girls he is taken heehee.
Violinist - Joanna Yeoh
Vry talented, vry beautiful, visit her
website
& find out more abt this gorgeous violinist.
Keyboardist - Mei Sheum
Well known jazz pianist in Singapore. Read
more
abt her, more abt her
work
wif others, her
cd
entitled Mei Sheum & Friends - I Remember You.
Percussionist - Mohamed Noor
The most sought after percussionist in Asia, read more abt him
here
Drummer - Lewis Pragasam
Lewis is vry much into
fusion music
& oso
vry sought after
in Asia.
Review
&
River Rhythm
where Lewis was involved.
Bassist - Andy Peterson aka "the green man"
Known as the
top bassist
in Asia.
Guitarists - James Wilson & Fauzi Samin
Not much on them but they r
well known musicians
in Asia & haf worked wif the others as well as many singers such as A-Mei, Jacky Cheung & Wang Lee Hom.
Backup singers - Andrew Chu, Josh Chen, Goh Kah Beng, David Tan Tat Wei & Rick Low Swee Cheong
Andrew Chu is well known in HK & Josh haf wrote & produced 4 Tension.