davidtao.com closed @ midnight for maintainance, will reopen 24 hrs later. Hopefully dis might mean more english content as promised by David. BTW title of Singapore thread in forum is chinese so if u r chinese challenged, look 4 originator of thread - mercuria. The posts now 4 pages (yeah yeah) mostly english so plse join in. I post everyday to push up thread, msgs to David, even if he dun read, its ok, I am satisfied he gives his fans venue to write to him.
I haf a vry looooooooong wishlist to change him to more my liking heehee. First I ask 4 more english songs, next to wear more check shirts cos he looks so good in them. Next nvr cut his hair short, stop wearing his loud pink shirt, stop posing with thumb up, appear more on tv - maybe host a program or sumthing so can watch him talk at least an hr, & lots more hehehhehehhehehhehhe. I really love him a lot not boy/girl kinda love of cos, he just so adorable & talented & great & wonderful.
Hm....it seemed David wrote a song for Ken Chu's
new album
, member of F4. David really picks sum interesting ppl to work wif.
Here's nice looking
fanlisting
for David if u interested, dun quite understand how it works or 4 what purpose is a fanlisting? Anyway David prolly in Shanghai now preparing 4 his countdown concert, wish him success & good luck to his fans who r attending. Hope u guys haf a fantastic time.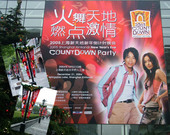 Vry nice Shanghai Countdown poster, click for bigger image, taken by & credit davidcn.com