Andy Warhol's Elvis2, vry rare, vry gorgeous, David haf similar poster in his LA studio. Haf upload Bastard remix in briefcase again 4 Coco. Missred plse email me if u wanna Happy Sunday clip with David & Selina. Lynn, dun understand how yr image file can be so big. If u r scanning, try to save as jpg not bmp. Or try sending to me ultra_snd@yahoo.com okie.
Dun they look cute in baseball gear, Tension currently in
Beijing
, first stop on their mainland promo. 2nd version of Story out now, karaoke vcd oso available, details @ blog forum.
Tao Dawei's Yappy Dog
website
officially launched, link courtesy nlayhua. David's album released
revised
to Jan 12 2005. Can only hope dat David keep to this deadline so here sum more pixs of him sticking his tongue out kekekekekeke!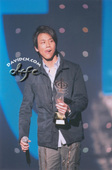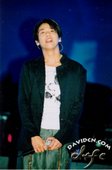 Pixs credit davidcn, click for larger image