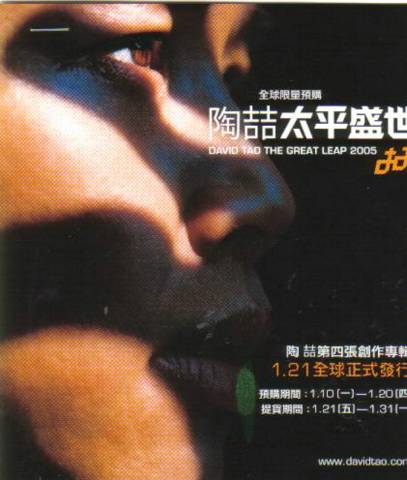 The coupon to collect David's new album <3<3<3 Hope u guys got yrs! Watch the mv 3 times alredi, its really quite brilliant. Love the spooky overture wif familiar music u can heard in lotsa chinese ghost movies, vry nice touch David. Oso the ghost movie cliques like old elevators, water dripping, working late in office, black shadows, etc. Of cos the music is great, a little MJ, a bit Linkin Park, sum U2 & lotsa DT. Actually felt was too short considering its the longer 6min version. I could haf watch him sing the chorus for at least 3 more min heehee. Just can't enough of DT.
Think everybody like Susan said but Who do you love is heartaching beautiful. The way David sings remind of how he sing One last cry, so hopeless & tugging at yr heartstrings. Actually David's singing seems to be even better if dat possible. Or maybe as he said by using 4 instruments & simplifying things, the music become the main focus.
Latest news is Ghost maybe banned in mainland China & so the debut song there is Who do you love. Anyway think it fated dat at least 1 song from his album is banned. Oso he wrote a song for Anita Mui called Her song (so sweet) & worked wif 12 girl band on another, dun noe how to translate song title. & thx to nlayhua who reported dat Catherine is english name of his mum.
David will be appearing on sum entertainment programs to promote preordering. Oso visit the video section of davidcn to dl sum clips of his appearance in love charity show. The one where he donated his guitar was cute. Oso clip of behind the scenes shooting ghost mv. Be interesting to watch 4min ver of ghost mv tonight.