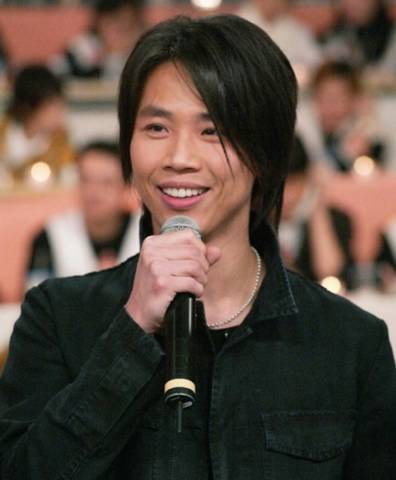 Can he get any more gorgeous than this? Heehee, prolly yes, anyway David did turn up 4 the love charity telethon thingie 4 tsunami victims, so happy dat he did. He donated his guitar & helped to take calls, so sweet, wish could be the one calling in, "Hi David, how do you stay so gorgeous?" hahahahahahahahaha
Yeah am in a happier frame of mind, must not let things or ppl get me down again cos it takes forever to recover & its not FUN!
Well, onto more serious things like his new songs, seemed quite a few fans esp in TW alredi heard the 3 songs & love them. A poll started @ DT forum alredi haf 5 voting Who do you love?, 5 Susan said & 3 Ghost. According to fans, Who do you love vry touching song, Susan said kinda r&b with Beijing inspired sounds & of course Ghost is allout rock.
Ghost will premier in Taiwan, Hong Kong, Singapore & Malaysia 1/10, & the mv 1/12. The lyrics for Ghost was written by David and cowriter who is not his usual partner, Wah Wah. Here's translated sample:
If there is ghost inside you
Who knows whether it is the same kind
Your blood turn to poison in the dark
In reality who is afraid of who
Aw I am a ghost
Come on, I am a ghost, I am a ghost
Yeah, should you be afraid of humans
Or really you should be afraid of ghosts, ghosts
So basically he is not talking abt real ghosts but the many things that can influence yr thinking & life. It seemed there is a phrase in chinese when things r going wrong, you said, "I see ghosts." So David used this to represent the many things that can go wrong in yr life due to unhealthy habits like gambling, drugtaking, etc. They r like ghosts, all around u, unseen. Oso the media & gossips surrounding David oso made him feel that he is surrrounded by ghosts. Asked whether he haf seen a real ghost, David said no but once in the studio, he felt something strange & feeling uneasy, he said a little prayer & everything was fine. Then recently in Shanghai, he thought he saw a black shadow flying towards him but nobody else saw it, and he joked prolly just cos the day was darkening.
U know I was half watching the highlights of the love charity show in hope of David appearing but no luck *sob* anyway there was dis 2 veteran singers singing lovely bit of canto opera & their voices, my god, pure & ringing thru the stadium, such perfect diction, each word separate & clear. While the other younger, more popular singers, u can hardly hear them, & when u do, u dun know what they r singing *sigh*