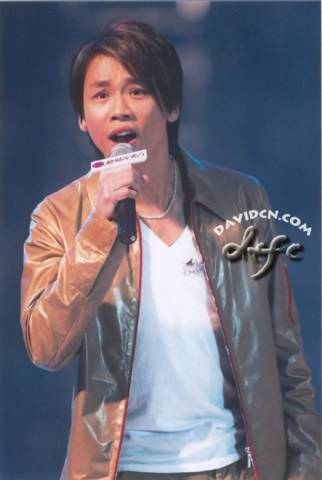 After spending a whole day in bed listening to David's songs cos I have a cold, I feel just a bit better. Anyway I left a msg for u Zoe @ DT forum & hopefully he saw it & pray for u. I really don't know what else I can do or say to comfort those affected by the tragedy except for donating & donating again. If David fans wanna group together & donate, let me know cos I am more than happy to join in.
Above pix courtesy davidcn a favorite of mine cos he looked so expressive. I really can't save the world, all I know is that my world is a lot brighter because David is around. I don't know why, not that I am in love with him or wanna marry him. I don't even care if I would ever meet him or talk to him. All I know is that so long as he is around to make and sing his lovely songs, my world is a better place. I wish I could delete the whole tsunami tragedy even if it mean deleting my whole existence like Lain.
If only the solution could be so simple as closing the world & opening the next.
I am falling, I am fading, I am drowning
Help me to breathe
I am hurting, I have lost it all, I am losing
Help me to breathe