Getting real excited just listening to his
teaser
& looking @ all the cool pixs. Not a big change of image but definitely harder edged. The debut song is Ghost & its another David looking at society song. The ghosts in his songs r metaphor of the many temptations & influences in life & how u can lose yr soul & become a ghost yrself. In the mv, David can be seen in 3 diff images - an office worker, a cool singer & the devil himself!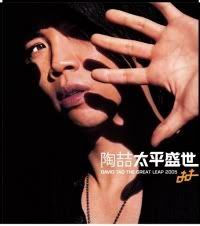 Preordering alredi in Taiwan &
Yesasia
, HK, Singapore, Malaysia next wk. The preorder gift is a Golden AVCD which haf unedited 6 min version of Ghost mv. Unfortunately 4 Malaysia, the mv dun make the censorship but of cos, slip across the causeway if u r avid DT fan heehee.
There r 12 songs (yeah yeah) & translated only the ones I can - Ghost, Catherine, Must love you, Who do you love?, Susan said, Fateless, 2night hidden love, Her song, What is love? David wrote quite a bit re his inspiration 4 the album @ his site, saying he limited his instruments to 4 & oso less layering of his music taking it back to basics. Sounds good to me.
The album is officially due 4 release on 1/21 but of cos the mv prolly be screened next wk & David will prolly do sum promoting. (Btw guess whose concert cd expected release 1/20 *evil eye*)
Altho David not seen participating in celebrities charity drive 4 tsunami tragedy, I believe he would haf donated & helped in his own way. Oso sum reports regarding rape, abuse & child trafficking duing the tragedy kinda make David's new song, Ghost, even more relevant. There r always ghosts amongst us & they r not necessarily dead.
Btw haf sum unpleasant exchange @ DT forum, always sumone anal retentive trying to police forums, wtf, forums r 4 expressing yr views, ideas, so forth, & David himself said to carry on wif our say cos he really wanna noe, I know he does, dat y he haf a forum & its not 4 ppl to keep saying how great & wonderful he is *roll eyes*