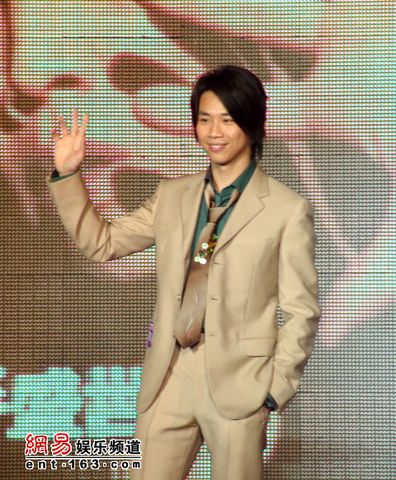 A few english articles on the HK album launch posted altho they r so bad except for the last one which was written by a Malaysian. The smallmindedness of S'poreans really come thru in their writings & I can bear it if they write well but bad writing, cheesy attitude & absolutely no research really p*ssed me off *sigh* The usual Jay comparision, mention of ex Melody, a not so subtle dig at his supposedly failing popularity. The last article is meatier & listen up Malaysian fans, David will be heading to your shores during March 15-20. Oso Zoe, David may be visiting Thailand too. As nlayhua shout out, David's 5th diary msg posted @ his website.
His music style is changing, and so is the American-born Taiwanese singer's world view
DAVID Tao (right) doesn't mince words.
Just minutes into our interview, the R&B singer launches into a tirade against corrupt politicians.
'Why do you think people get into politics? It's for the money, that's why. It's a business with more money than you can imagine.'
We had been talking about the single Ghost from his latest album The Great Leap, which is David's angry outpouring directed at those 'with power and money, but give absolutely nothing to the world'.
The American-born Chinese was in Hong Kong last Friday for the launch of his album.
Like his previous album Black Tangerine, which was inspired by the Sep 11 tragedy, The Great Leap is also teeming with the socially-conscious 36-year-old's views of the world.
This time, bad politicians bear the brunt of his diatribe. He had refused to vote during last year's hotly-contested US elections.
'Our political system is a joke! Who can I vote for then? I prefer to exercise my rights through my music.'
David certainly wasn't beating around the bush with his comments, but could it be a particular Bush that he was bashing?
David claims that he was not.
'I'm not entirely pointing the finger at just one in particular, it's anyone who has the power, money and control but doesn't use it appropriately.
MUSIC WITH A MESSAGE
'Probably, some people might think I'm a troublemaker for my incendiary thoughts, but I truly believe that with more love around, we can have more hope for our current situation.'
And with The Great Leap, David is also making a great leap of his own to his 'mid-life stage' of music-making.
'At this point, my views of the world and society are now different from before, and my songs will be different too.'
He is no longer content with music just for entertainment, but music with a message.
'In the West, we have people like Sting, Bob Dylan and Bono who are not afraid to voice their views on politics, but we don't have an Asian singer who does that.'
But what if his fans are not ready to accept this wise and serious David Tao?
'I'm not worried. I don't think my attitude is self-righteous.
'I'm just expressing my opinion. We are all guilty of a lot of things. But to criticise doesn't mean you are self-righteous as long as it's constructive.
'If people get sick of hearing what I want to say, they can stop buying my albums.'
Clearly, David has no plans to keep his opinions to himself and doesn't have plans to buckle under external pressure.
At his press conference earlier, David had thanked his fans for their support with a bow, and then promised that he would never 'sell out' in terms of music.
ARTISTIC FREEDOM
When asked what that out-of-the-blue promise was all about, David replied: 'It means caving in to the market, to the record companies.
'It's about artistic freedom, about doing what you want to do.'
He added: 'This has always been a struggle with the artistes and there's been changes in quality of the music that some of the singers are putting out now. I don't need to name names.
'I guess it's not entirely their fault, it's because the market keeps changing. But I still prefer to stay true to my music.'
Could he be talking about arch rival Jay Chou? After all, when a reporter had compared him to Jay earlier, David's comments were politically correct but hinted at a deeper meaning nevertheless.
'Jay comes up with more albums and more frequently than me.
'His performance is very good. But different musicians have different ways of doing things.
'I'm older than Jay by quite a bit and my thinking is different.
'Sometimes, music is not about the number of albums you come out with or the sales figures. What's important is whether your music influences society or not.'

Fans thrilled to be part of new CD, music video launch
THE press conference for the launch of David Tao's new CD was not held at the usual hotel function room but at the open plaza of the bustling Times Square shopping mall in Causeway Bay.
An unusual decision no doubt, but one that left many of David's fans delighted.
VANTAGE POINT
Administrative officer Agnes Fung was at the shopping mall three hours before the press conference to reserve a vantage point to see her idol.
She couldn't believe her luck when she heard that the press conference was going to be held in an open area that she could have access to.
'I have been waiting for two years for David to come to Hong Kong,' she said.
There was no mistaking who were the curious shoppers and who were the fans.
The fans - besides bearing the usual placards - also had a bright orange 'tattoo' of the Chinese character Tao on their cheeks.
One of them, undergraduate Echo Cheung, 21, told The New Paper: 'We got the idea from football matches. We saw how some people paint the name of their country or their favourite teams on their cheeks and decided to do the same.'
Though there were less than a hundred fans present, they were enthusiastic and cheered loudly to set the mood for the press conference whenever one of the TV crew members requested them to do so.
The fans also got very excited over the unveiling of David's much-talked-about music video for his song Who Do You Love.
SIZZLING KISSING SCENE
The nine-minute music video, which features a sizzling kissing scene between David and Chinese actress Qu Ying, was shown for the first time.
It elicited a lot of screams and catcalls from his female fans, who were obviously not used to seeing their idol in such a 'compromising' position.
David was both amused by his fans' reaction, as well as the fuss over the kissing scene.
He said that the scene was done in four takes and had taken not more than 10 minutes to complete.
He had not met Qu Ying before the filming of the video but said that it wasn't awkward to film the scene at all.
'If she is my friend, then it would have been awkward, but it's precisely because we don't know each other, that's why we treat it as only a job.'

Melodies for the women in his life
KATRINA, Catherine, Melody, Susan and Angeline.
They have all had the honour of having a song written for them by David Tao.
We do know that Melody was written for his ex-girlfriend Melody (left). But how are all the other ladies related to him?
Is he some Lothario who likes to pen songs as a nod to all his exes?
David, amused by the question, was quick to defend himself: 'Angeline is a fictitious character I wrote the song for, it's about a mermaid. Melody, well, you all know already. Katrina is not my ex-girlfriend, but someone I briefly knew.
'Catherine, was written for my mum, while Susan is actually a song about Chinese opera, and is a play on the title of a famous opera, not a person.'
And while David was more than happy to talk about his work and views of the world, he was tight-lipped about his love life.
He refused to comment on recent rumours that he was dating a woman named Joanna.
He claims he hasn't 'found my rose yet' and doesn't have plans to settle down for the next two years as he wants to concentrate on his career.
'I always treat my personal life as very private... I always find that the paparazzi is a double-edged sword. Sometimes the publicity helps, but there are times when you can do without it.'
Tao wants to make the world a better place
BY NG CHENG YEE
HONG KONG: Being an Asian R & B king is not just about looking good and making lots of money.
For acclaimed singer-songwriter David Tao, it is also important to be concerned about problems in society.
"I hope to change my living environment through my music, if I can't change the world," he said after launching his album The Great Leap 2005 at Times Square here yesterday.
For example, Tao said the song Ghost was to remind people that human beings could be scarier than ghosts because of the damage they inflicted on society through wars and terrorist activities.
"It is a song that uses a negative symbol to send out a positive message in that human beings might be able to destroy society like ghosts but their love and care could also make the world a better place," he said, adding that he was upset the song was banned in China.
Tao also received the platinum award for the sale of his four previous albums.
Three million copies of his albums were sold in Asia alone.
Although the music was not completely different from his previous albums, he said the new album was more mature and simpler.
"When you reach 35, you will have different views about your life, love, career and parents and these will be reflected in your music as you tend to keep things simple by using fewer musical instruments," he said.
On whether he was "playing safe by including commercial love songs such as Who do you love? in the album, he said being commercial was not necessarily a bad thing.
On his future plans, Tao said he would visit tsunami-affected areas in Indonesia and Thailand with other artistes, apart from promoting his new album.
"I'm also planning to organise concerts in China, Hong Kong, Taiwan, Singapore and Malaysia this year," he said.
Tao will be in Malaysia from March 15 to 20 to promote his latest album. The event will be organised by Galaxy Production and presented by Hotlink.