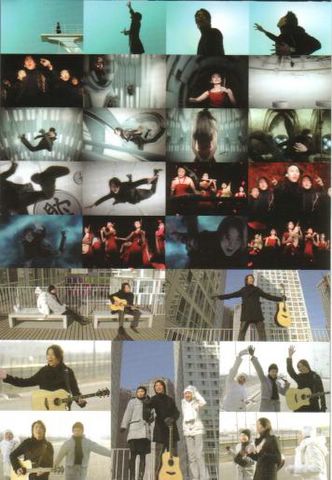 The leaflet in mv dvd, very pretty, all these tiny pixs of David, quite exhilarating to see him in mutiples heehee. I suppose its worth the value for this leaflet & the mvs not shown like Catherine which I like enormously & What's Love. David dun appeared in Sula & Lampa & lotsa ppl dun like it but I thought it was quite funny. As for Fated & 2Night, sry too squeamish for me to watch cos I kept thinking of Humbert Humbert.
I know Vladimir Nabokov's Lolita is considered by many, even the venerable Graham Greene, as 'one of the greatest novels ever written' but I dun enjoy reading it. I dun enjoy reading Lady Chatterley's Lover either, maybe I am more prudish than I thought. However I am sure they r outstanding books despite their controversial content. So sry if I had offended anyone by putting David & pedophile together, but sumtimes my imagination get ahead of me & this image of David being Humbert Humbert was overwhelming. It made me want to throw up so I had to get it outta my system. Now I sounded confused but nvr mind.
Also seemed lotsa fans offended by the article in Sisters but I thought it was vry tongue-in-cheek & David obligingly played along. I thought the bit where she asked if he had encountered 'false breasts' & the first time he touched them were hilarious. He also revealed he had 5 relationships. Poor David, try & get married as soon as possible & then u dun have to suffer another interview like this again *wicked grin* Dun hesitate, Joanne is the right girl for you heheheheheheheh just joking.
Nice satisfying little
review
:
The Great Leap 2005
Artist: David Tao
Record Company: EMI
Reviewer: Noorsila Abd Majid
Even though The Great Leap 2005 isn't really David Tao's great foray into the unknown, the album has nevertheless become a firm critical favourite as well as a mainstay of mainstream Chinese radio. Commercial yet arty, the album kicks off with Ghost Overture, a powerful collaboration between the multi-instrumentalist and China's red-hot classical crossover act, the 12 Girls' Band. Their synergy shines through again on the exotic The Art Of War, Susan Said and Sula & Lampa. Too bad, the muscled-up version of Ghost (track two) doesn't sound as good as Tao gets a bit too loud on the chorus. Fortunately too, sad ballads (like Catherine and Fated) are kept to a minimum here. Instead, most of the tracks on the album are delicate pop gems that bear testimony to Tao's position as Taiwan's best soul vocalist. Just like on his previous albums, Tao's songwriting is personal and sometimes philosophical. "Should you be more afraid of people or ghosts?" the serious singer/songwriter shares his views of life and death on Ghost. The religious Tao also talks about his faith in God on Sweet Hour Of Prayer. So while it is true that followers like Leehom and Jay Chou are currently hogging the limelight thanks to their commercial appeal, Tao proves with this release that he is in actual fact the quiet innovator of Chinese pop.

The last line says it all.