Nice ST article which also mentioned Lucky's shirt, Lynn u r famous hehehehehehehehhe. Like the title 'Taotally in love' so true, gurl_julie has helpfully posted
transcript
@ blog forum. & so excited we have an
exclusive
courtesy of Sherry with encounter & gorgeous pixs *muak* *muak* of the Songwriting Seminar @ Hard Rock Cafe. & Tangerina has posted sum DT Expo clips on her
site
! Seriously thank all of you sincerely for making such effort to share, I feel so happy & I am sure David will be too if he knew. Also sg fans r trying to start an official David Tao Fan Club in Singapore, if u r interested, register @ their
Yahoo grp
to find out more. Will include in links.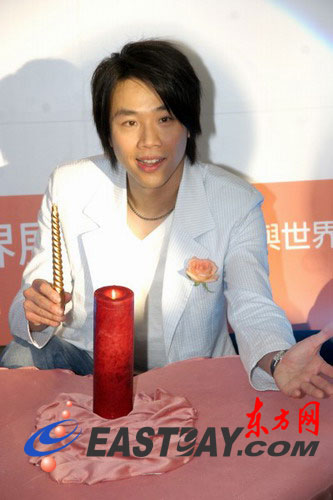 David had a vry successful World Vision promo yesterday in Taipei. More than a hundred fans registered to take tea with him to help disadvantaged children all over the world. He looked so suave in white & lapel rosebud almost like a bridegroom which could be why the media kept asking abt his marriage. David seemed confident that he will settled down within a couple of yrs & have kids. Btw always thought everyone knew Wu Bai is already married, in fact didn't he dedicated to his wife during his concert? Maybe I am missing sumthing here *scratching head*
More nice pixs @
Tom
He looked so wholesome in white dun u think even though he said he only have 3 hrs sleep.
The Great Leap MV Session dvd should be available the next few days, do keep a lookout. It seemed to have set off sum silly arguments in Taiwan like the CD with ticket one here abt whether or not its 'repackaging' of The Great Leap. Even David was asked this question. How can it be 'repackaging' when there is no cd attached, I really dun understand. Also its cos of sum problem with his previous company that his new songs not available @ ktv, so EMI specially released this mv/karaoke version. Anyway even if sum fans feel its kinda 'EMI tactic' to make more money, they dun have to buy the dvd rite---so weird. Not me, can't wait to get it & watch David again & again heehee