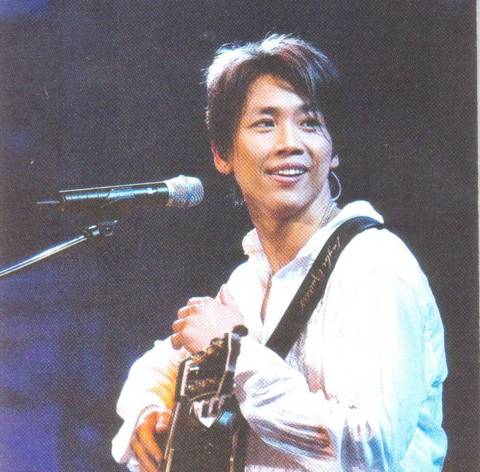 Just sharing sum of David's words......
After almost six years of writing and recording albums, I now finally have the opportunity to bring this music to you live on stage. The feelings and emotions that I have experienced throughout this tour are beyond words and intellectual understanding. Perhaps I am to savor these emotions little by little throughout my lifetime. What is for sure, however, is the power of music as it can bring together thousands of hearts and minds for just a few hours in their daily life. And what is most precious during these few short hours is the immense energy and love that is shared by all of us onstage and in the audience. This is what music and life are about.
This concert tour was not a few months in the making but, rather, years as the groundwork and hard work was laid out long before. The spotlight should be on these people rather than on me. These are the people who you never see, meet or even hear about. They are the foundation on which my career is built upon. To all my old and current colleagues, staff, partners, and superiors - I thank you with all my heart as none of this would be possible without each and everyone of you. To my friends, fans and supporters worldwide - I cone to each show to see you and your glorious smiles. You are the stars of the show.
Soul Power is a power that can only emanate from within. It is the power of love and change. And this, is something that each and every one of us possesses and can share.
The music has paused but we're only merely taking a short intermission. The show will go on and we will be coming to a stage near you. Don't go away...we'll be right back.
From David's Soul Power Live dvd, dun he write so well. Remembered when Ultrasound came out, the website mentioned in the cd www.davidtaomusic.com u can listen to him talk abt his albums & concert. Such a thrill listening to him. He really expressed himself so well, not surprise as evidenced his lyrics so meaningful & applying to real life not sum crazy, fantasied verses painting castles in the sky. Not saying they r no good but fantasy is shortlived & can be dangerous to indulge in too many fantasies. Life is beautiful but only if u live with passion & not rely on escapism 2 much.
Here
another female taiwanese artist saying she likes David.
Hmmm......must be the in thing for female taiwanese artist to say publicly they like David heehee.
Saw Tension on enews & instead of giving the hosts their own album, they gave Anson Hu's new album, Music Mixture. So sweet & generous of them to help promote Anson as being mainland chinese, he is unable to promote in Taiwan himself. So taking their example, promoting for
Anson
here.
He is really a good & sincere singer/songwriter. Dis album not so accessible as his first 2, but vry brave of him to try new things & not just write crowd pleasing hits. Jimmy was full of praise for his perfect pitch. So if u looking for sumthing other than the usual, boring hip hop plus r&b songs, might wanna try dis album.