David's new love - 2004 Porsche Turbo. Vry nice, much prefer Porsche to Ferrari. Anyway apparently in his indepth interview with Patty Hou, the exceedingly sweet talkshow hostess, David said that while he can be without women in his life, cannot be without his cars & they must be high end cars, none of your Toyota. To him cars give him pleasure & excitement, & r a lot less trouble than women.
Actually dun find his views vry controversial or sexist, lotsa men r like dat abt cars. Oso if David dun haf relationship problems wif his mom & gfs like a normal 35 yr old bachelor, then he won't be able to write & sing with such real emotion. Most great musicians actually led rather troubled lives from Mozart to Ray Charles to Bob Dylan to John Lennon to David Tao.
Prolly most Asians not used to celebrities so frank & honest abt their true self like David. Most of them put on a front to appear sweet, shy & innocent on camera cos most fans like them dat way. Western celebrites r allowed more freedom to appear more their real self. So yeah dun get upset just cos David is not dis perfect image of a faultless man. If he were to appear always polite, innocent & without problems, I think we will not believe this is the real David rite?
A vry cool pix of David @ Tom, lots more
here
, oso indepth Tom
interview.
Actually David haf been appearing everywhere & its great cos can see him & hear him. For those who haf not seen or dun understand chinese, here's a brief rundown of sum of the programs:
Happiness 100
Taozi hosted dis one hr program with guest celebrities. They first talked abt the song Ghost &how it was mistaken for writing abt the media & David explained dat its not. Lotsa ppl still dun understand what this song is abt. Ownership of media esp in US is extremely political & news reports r hardly neutral but obvious as to which party they support. Actually quite surprised David making such a political statement. Talking abt his love life, David again mentioned Charlie Theron as his 'ideal'. Then his dad appeared & they talked abt how naughty David was as a kid, almost burning down their house. David's dad oso talked abt how he almost set an island in the Philippines on fire. Vry funny, the 2 of them. Oso appearing on the show were Jimmy of Tension, Jammy-makeup artiste, Jamine/Fish Leong, SHE & Jay Chou to talk abt David & wish him well. Jay was the cutest as he told David he is afraid of ghosts & not to write such scary songs. He oso said sumthing like "feelings are the best inspiration for a composer so hope you get married soon" to which David replied, "You too, Jay." So can see they r not rivals as reported, but understand each other all too well. Overall a nice program.
Kangsi Come
Dis the now famous Little S touching David's chest episode. Vry funny & again David's dad appeared. They asked if David ever brought home any girls to stay overnight & his dad was quite adamant dat David nvr did such a thing. David said dat his parent dun like PDA - public display of affection. Talked abt the special way David gave his dad a present of his dream car. How his dad coped wif the fact David now more famous than him & his dad said vry simply & frankly dat since David is his son, he has nothing to get upset abt. Vry funny & light episode.
Jacky Go Go Go
Vry strange choice for David, but it was actually vry enjoyable. Can see David vry relaxed & enjoying himself even tho it was vry early in the morning. Jacky was less wacky & revealed himself to be actually vry cultured as he wrote a couplet using David's name on a huge lantern to be released. When David bashedly said he dun know how to write his album's name in chinese, Jacky kindly helped him by writing the characters for him to copy (David's level of chinese comprehensive must be worst than me cos at least I can write the first two characters).
There was extremely hilarious part in the bar involving juggling bottles & fire. Jacky was really nice & respectful to David, kept mentioning his album. Oso proved again Jay, who is Jacky's protege, & David were nvr rivals as reported.
Again David's dad appeared in dis program hosted by Little S & Siao Chu. They showed lotsa of David's younger pixs & talked abt David's younger days when he went rumbling & oso when he was in LAPD. At the end David & his dad sang his most famous hit song, Friend's song. Vry nice & enjoyable.
Dong Feng Music
David as vj as he played his latest mv, Susan Said where he appeared in ancient clothings. The director selected red as the color & longhaired look for David to make him look like a martial hero. For the background they chose a look similar to Zhang Yimou's Hero, a film dat used colors expressively. The mv described a psychoanalyst who discovered his patient, a beautiful young lady, was his lover in a past life, & even tho they r both reincarnated, they could not forgot each other. Dun think any meaning in writing on the girl's back, cos think its just for visual effect as it looks very nice & romantic. But reminded me of a very sensual movie called Pillow Book by Peter Greenway.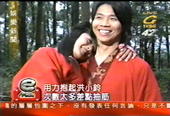 He oso played Who do you love mv which included sum 'making of' footage, but the mv was the shorter version in which a gold pendant from the jewelry store he endorsed featured prominently. In Susan Said, there was oso product placement. I am not too concerned altho guess sum fans may not like it but David now @ EMI haf to compromise to bring us better music. So far the 3 mvs r extremely well done & does justice to his songs. Finally he played the longer version of Ghost, Black Tangerine & Season of Loneliness which were requested by fans. He was quite adorable when he was puzzled dat ppl want to hear such heavy & sad songs for the lunar new year. And oh a song by 5566 which was prolly payback for appearing on their program.
Lotsa ppl haf said oh its ok & dat 5566 was being playful & they r always like dat, etc, but the fact is David was really willing to impart his singing techniques. He even wanted them to try to beatbox to Ghost, would haf been interesting if they haf cooperated, such a lost opportunity for the audience. Basically if u r good hosts, would haf recognised dis golden opportunity to record really different & interesting episode for taiwanese entertainment which is usually so fluffy & superficial.