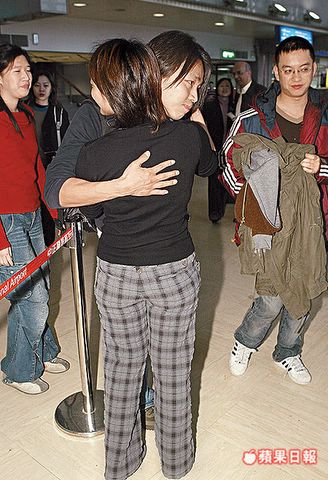 David gave hugs to friend & workers b4 flying to Shanghai to spend CNY wif his parents. After dat he fly back to LA to attend friend's wedding & be reunited wif Lucky, his pet dog whom he missed vry much. He lately bought new property in LA & he looked forward to spending time there. In fact David been vry successful @ real estate & made quite a lot of money buying & selling properties. He now haf quite a few properties all over the world & one of them prolly where he will live wif his future wife.
Anyway watch his interview wif Patty Hou where he made the remark 'can be without woman but not cars', actually it was Patty who said it first & he kinda agreed. Basically Patty was saying his fans eagerly awaited his new album no matter how long & asked if there was anything dat he eagerly awaited, & he said the latest model of Porsche Turbo. Then he said cars give him security & excitement, & Patty said, "So you can be without woman but not cars" and he agreed but kinda jokingly.
Elva Hsiao, Ah Mei & Charlie Yeung appeared to give comments on David as producer & all said he was vry serious abt music. Then David said dat he considered retiring from music after 2 more albums to produce movies but not really confirmed, only in the planning stage. But he said not to worry as his movies just a continuation of his music & oso there could be movie soundtrack.
I noticed David vry good at avoiding personal questions. Like Patty asked if he could ever love 2 women like in his song Who do you love, and he went on & on abt history & kings in both west & east having concubines. Then Patty asked if any women ever expressed love to him & instead of answering he encouraged women to express love to the men in their lives. Basically I suddenly realised dat even tho we know a lot personally abt David, its usually just his relationship wif his dad, his childhood, his love for cars, his dog Lucky & lately his business acumen for real estate.
He hardly ever elaborated abt his relationship wif his mom even tho he wrote a song abt it but it raised more questions. Even his 5 yr relationship wif ex gf Melody is a mystery even tho he wrote a song for her. Despite his strong dedication to Joanna in his album, he still said he will not be getting married soon & has not met a suitable mate. And when Patty asked him what kinda personality he said must be independent, sensitive, healthy, etc, etc, which sounded more like choosing a car than falling in love.
I really believe David is not like dat regarding love else how can he write & sing so emotionally & touch so many hearts. Maybe even tho he said he is exposing more & more in his songs, in his interviews he still maintain distance between the real him & the public image.
If as he said dat we can find out the real person in his latest album, then from the songs Love can, Susan Said & Fated, its seemed David looking for old fashioned definition of everlasting love where 2 persons fated to be together bounded by a red thread. But then his second last song questioned & laughed @ the power of true love.
But take heart David, look at Prince Charles & Camilla, getting married despite all the 'wind wind rain rain'. U may hated dis couple & find them comical cos of their age or less than perfect looks, or felt dat Prince Charles should remain a widower in memory of the gorgeous Princess Diana. But the fact is they remained true & loyal to each other, or maybe the power of love is mocking us wif the couple of the millenium being dis 2 old imperfect personalities rather than the beautiful idols of Brad Pitt & Jennifer Aniston.
As David said half jokingly & half seriously to Patty Hou that men will not selected short, fat, ugly, stupid, insensitive women as their mates. But yet one of the most eligible men in the world gave up one of the most beautiful women in the world for a frumpy matron. Anyway no matter I do hope David will meet his 'Susan' the one true love that he will condescend to wait forever like the Porsche Turbo.
Sumtimes I wonder if dat is why I oscillate between David & Wu Bai. Altho admittedly Wu Bai is not as good a songwriter or singer as David, there is just so much raw power, earthiness & strength in his songs & delivery which come in part from his deep commitment, love & respect to his wife.